Camp I Am Me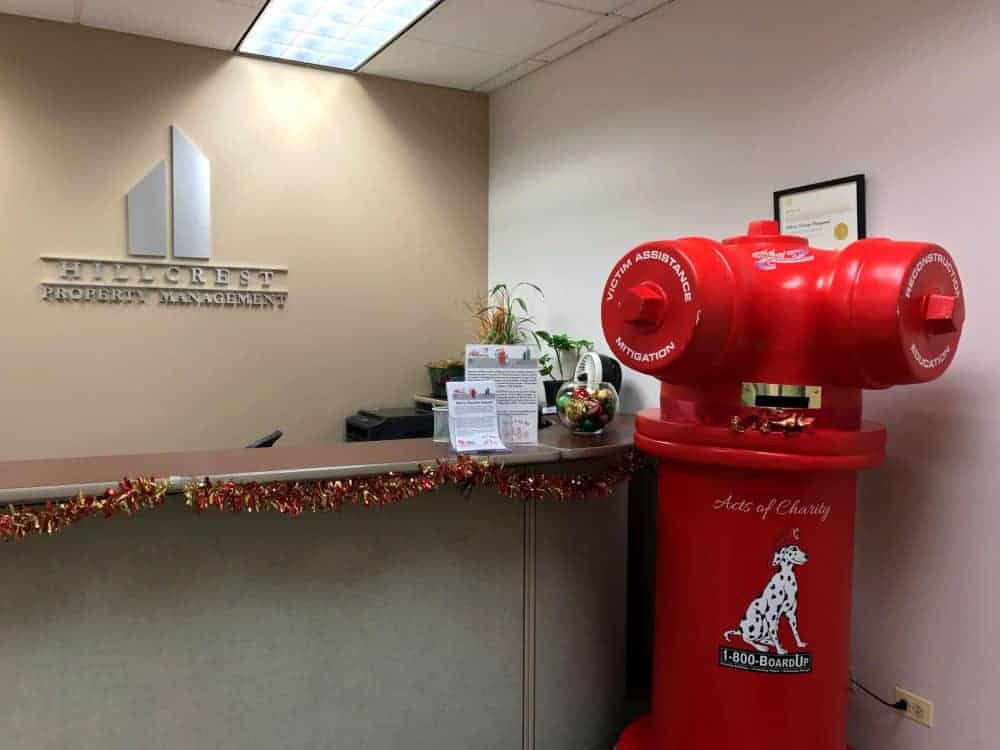 We're doing things a little differently with our Hillcrest Supports campaign this month. We have teamed up with J.C. Restoration to help raise money for Camp I Am Me, a camp for young burn survivors coordinated by the Illinois Fire Safety Alliance (IFSA). It takes $2,500 to send one child to this camp so we've extended our fundraising efforts to two months! During December 2016 and January 2017 we will be raising money different ways in our office and have come up with a couple ways for you to join us!
During the week of December 13, 2016 you can stop by during our regular business hours to "Help Us Flood the Hydrant!" Through J.C. Restoration's partnership with 1-800-BOARDUP and their very own former Chicago fire-fighter, we are proud to host the J.C. Restoration traveling hydrant! It is helping us collect donations for "Bucks for Burn" which is J.C. Restoration's fundraising effort for Camp I Am Me. We are grateful for any donations – large or small to help us reach our goal of $2,500 by the end of January 2017. If you're in our office during the week of December 13, 2016 feel free to take a picture with the hydrant and share on social media to help promote this great cause. And if you can't make it in that week, the fire hydrant will come back for another 5 days during the week of January 23rd.
Besides the 5 foot bright red fire hydrant in our office, you may notice some of our employees dressed a little wacky. To help raise money in our office, we have different "dress-up days." In order for each employee to participate they must donate at least $1.00.
If you'd like to join us and dress-up with us, here is a list of our scheduled days and themes:
Holiday Dress-Up Days
Thursday December 8: Holiday Festive Attire – Wear your most festive holiday outfits! Whether it includes a white beard, pointy shoes, or jingle-bells… lets see it!
Thursday December 15: Ugly Christmas Sweater – The more hideous the better!
Thursday December 22: Holiday Pajamas – Lets see those reindeer onesies and elf slippers!
Thursday December 29: Glitz & Glam – NYE is around the corner so we wanna see who can sparkle the most!
Camp Hillcrest Spirit Week
Monday January 23: Favorite Color – Get decked out from head to toe in your favorite color!
Tuesday January 24: Crazy Hair Day – Whatever you do, just remember you still have to go to work the next day.
Wednesday January 25: Twin Day – Grab another colleague and coordinate to dress alike!
Thursday January 26: Super Heroes vs. Villans – Whether you're saving the world or coming to the dark side- show us your true colors!
Friday January 27: Slipper Day – Whether they light up or have unicorns on them, wear them today!
For other ways to help, please contact Celina at 630-627-3303 or visit www.ifsa.org